Girl Scout Cookie Program 2020 — Extended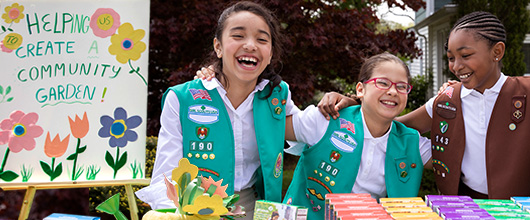 Date:
Wed Jan 01, 12:00 AM
- Thu Apr 30, 11:45 PM EST
Category:
Product Sales
Level:
Adults, Ambassador, Brownie, Cadette, Daisy, Junior, Senior, Volunteer
When you sell Girl Scout Cookies, you're doing more than helping your customers stock up on delicious treats (and having lots of fun). You're doing it with a goal in mind—a goal to power new, unique, and amazing experiences for yourself and your troop all year long!
IMPORTANT DATES 2020
Jan. 1: Cookie Program begins! Order-taking begins by girls.
Jan. 31-Feb. 2: Super Bowl Weekend (highest booth sales)
Feb. 14 (14-16): Valentine's Day/Weekend (2nd highest booth sales)
Feb. 28-Mar. 1: National Girl Scout Cookie Weekend (3rd highest booth sales)
April 30: Cookie Program ends (extended)
String of Pearls Reception (top champions in Fall Product Program & Cookie Program) will be assigned a new date due to restrictions on group gatherings because of the COVID-19 virus. Stay tuned for more information!
HELPFUL WEBSITES
For Cookie Sellers
For Troops
For Service Units